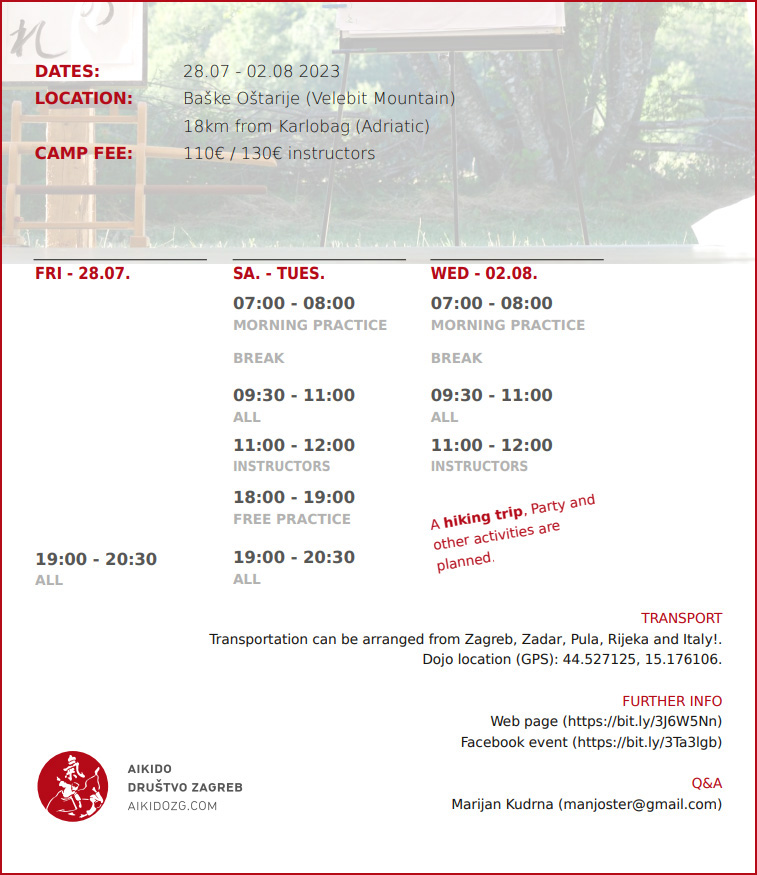 Summer seminar in Velebit
Aikido društvo Zagreb organized from 28.7. to August 2nd, 2023 its annual summer seminar in Baške Oštarije in Velebit near Karlobag.
The main teachers this time were Maurizio Volpe from Novara, like last year, and Davide Rizzi from Bologna. They shared the daily classes from 9:30 am to 12:00 pm, taking turns in general and teacher training. In addition, Marijan Kudrna, Roberto Dalla Valle and Michal Hájek taught in the morning training from 7:00 to 8:00. The first evening class from 19:00 to 20:30 on Friday was led by Davide Rizzi, and up the following evenings were shared by Joachim von Rost and Bernhard Boll.
The more than 50 participants came mainly from Croatia. A large group came from Italy (Monfalcone, Thiene, Vercelli, Turin) and other participants from Slovenia, the Czech Republic (Prague), Austria (Vienna), Germany (Nuremberg), Serbia and Norway. On the tatami, the Aikidoka with Hakama predominated, but there were also a number of beginners who were not deterred by the sometimes complex advanced techniques and worked eagerly.
Many of the participants were accommodated in the Baške Oštarije hostel and the others organized one of the accommodations proposed in the flyer, on the camp site or in cottages or apartments on the plateau or in Karlobag by the sea.