Prague November 2019
Seminar with Bernhard Boll
Start with practice. New theory follows.
Theory helps and is behind everything, but does not replace practice. There are two ways to practice: start with theory and practice accordingly or start with practice (situations, settings) and develop (new) theory based on one's own practice. Through this notion of practice theory can be re-established, improved, questioned, etc. which was emphasised during the seminar. The importance of self-discovery and enquiry (which is also reflected in the name Ki no Kenkyukai) is clearly embodied by Shihan Boll and the seminar organiser, Hayek sensei and the open format of the seminar.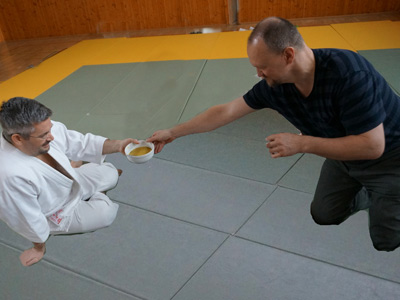 Every since I met Hayek sensei at a summer seminar in the Swiss mountains in 2010 and my subsequent move to Vienna in 2013, Prague – the southern distict of Libuš to be more precise – has become a perennial and special place of learning and practice.
A community centre and infant school at the centre of a suburb of communist mass urban housing, "Klub Junior" and its surroundings are serenly quiet on the weekends of the seminars. Hayek sensei's accommodating and generous nature is coupled with the enthusiasm of school caretaker Pani Vankova who greets us heartily, provides us with a sleeping quarters and has often contributed to the Sunday tatami picnic with the best potato pancakes (Bramboracky) imaginable. This time she was preparing for a knee operation and sadly couldn't join.
A small familial atmosphere has been built since the annual seminars with Anne and Bernhard were initiated several years ago. This time, along with the Libuš students (Jana, Mikulas, Theresa, Sabi) a regular contingent from Nürnberg also made it (Christian, Claudia).
The group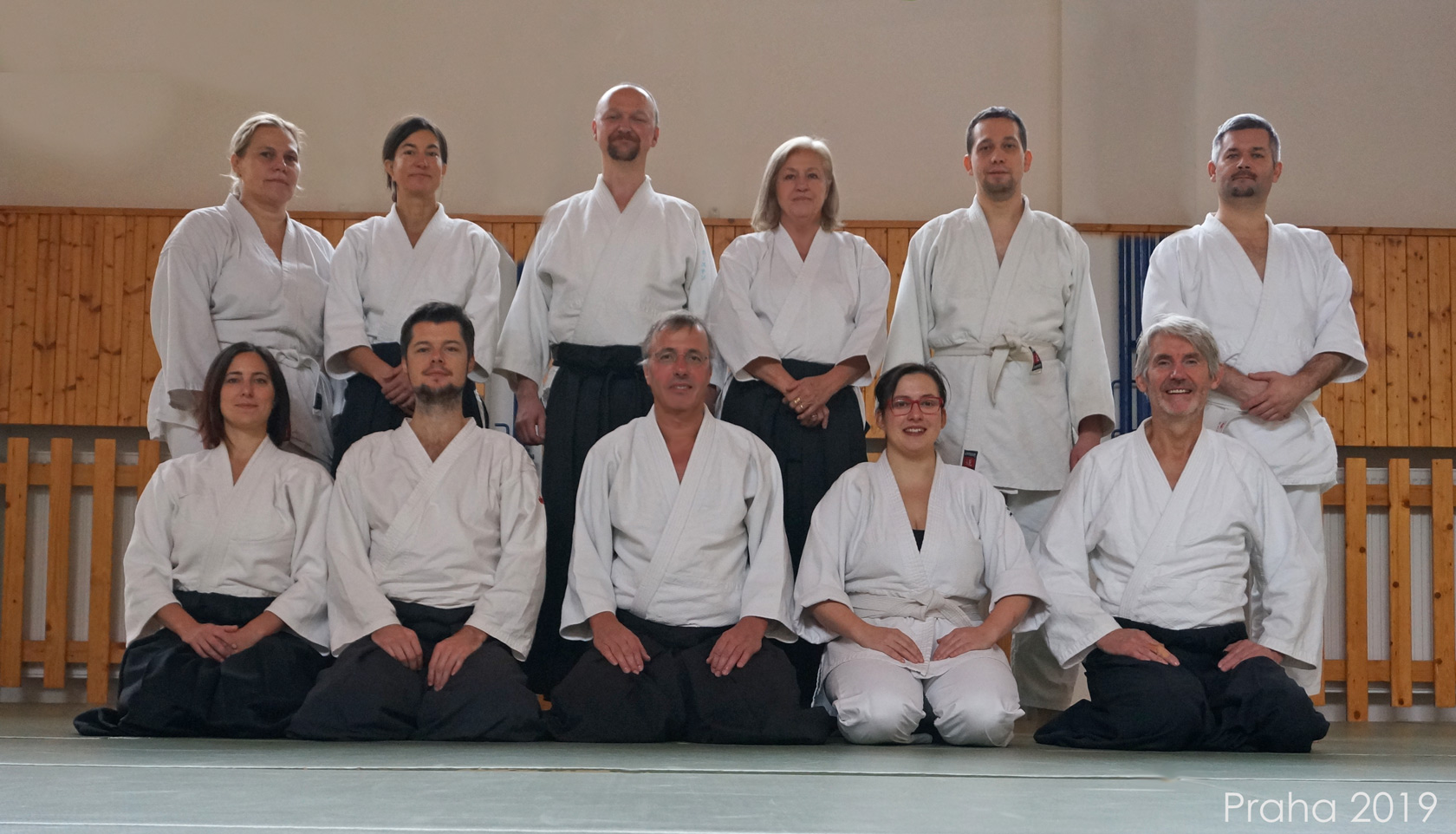 Intensive practise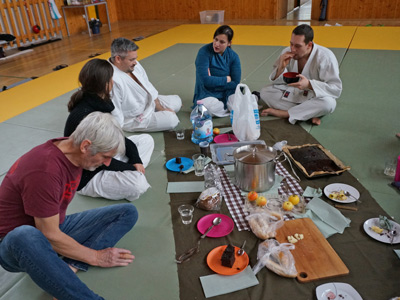 We arrived with a delay by Regiojet train from Vienna, but still made it punctually for the opening Friday evening class at 8pm. After Kenkotaiso we were immediately tested with Zagi Handachi which was explored in detail. It is impossible to describe exactly how this relationship and how this exercise works. As he said, there is nothing more important than practice. To simplify, a somewhat interesting allusion was made to T'ai Chi wisdom and the "three types of hands":

Stupid hands – useless force and resistance;
Intelligent hands – leading without forcing;
Magic hands – highest expression of ki.
The intensity remained high in the evening as we worked through Tsuzukiwaza 4 (Ryotedori)..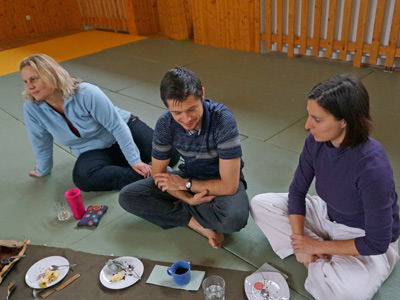 Bernhard masterfully elaborated and technically demonstrated a variety of martial forms and theories whilst never failing to be up-to-date on Doshu's teachings. He began many decades ago with "Ki-Jutsu" and practised later Aikido in the German Aikido Union (Deutscher Aikido Bund) before he founded his own dojo inside Shin Shin Toitsu Aikido of Ki No Kenkyukai. This diverse experience is fruitful for understanding the current contradistinction and development of "Aikido in the dojo" and "Aikido in real life".
Swift shocks of realism for all Uke are par for the course, and always instructive and well-meaning. Moments of humour and hilarity are expedient and frequent. It is fitting that Saturday lunch is traditionally held in a nearby gastropub called "divine comedy".
The programme also included Tsuzukiwaza 1 and 2, Bokken 1, Bokken with Jo 1 and Kenkodo.

We hope to meet Bernhard and Yvette again in February at his former dojo in Hechingen where a date is still to be set. Thanks to Dojo Libuš for organising another seminar!
Ryan Jepson - Ki, Aikido und Gesundheit Wien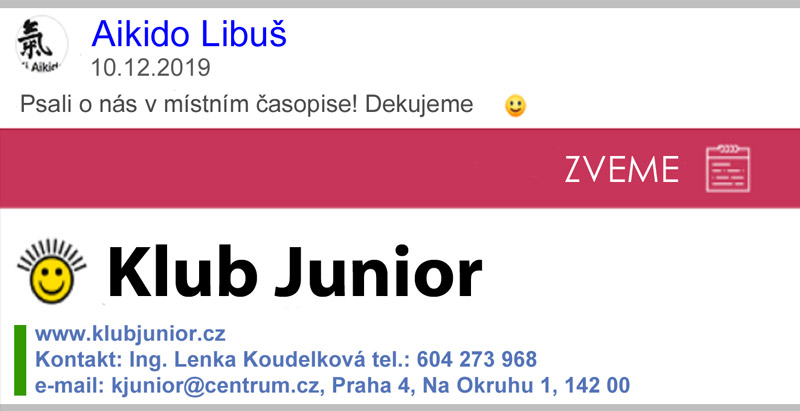 Aikido víkend s mezinárodní účastí
Bojové uměni navazuje na tradici japonského budo – cesty válečníka. Vychází však z přesvědčeni, že boj je nutné zastavit, nikoliv v něm zvítězit. Správným vedením a kontrolou situace je možné bez obav čelit nebezpečím a aktivně předcházet nepříznivým okolnostem.
V čase druhého listopadového víkendu se v Klubu Junior sešli příznivci japonského bojového uměni aikido. Na tradiční podzimní víkend pořádaný oddílem Aikido na Libuši jsme uvítali kromě Cechů také příznivce z Švýcarska, Německa, Itálie, Slovenska i Slovinska. Intenzivní cvičení probíhalo v přátelské atmosféře pod vedením Švýcarského učitele Bernharda Bolla, který se japonským bojovým uměním aikido zabývá již vice než 40 let. Všichni účastnici si odnesli nejen nové poznatky a řadu zážitků, ale především silnou motivaci k dalšímu cvičeni a zlepšováni se.

They wrote about us in a local magazine! Thanks a lot!
Aikido weekend with international participation
Martial arts follow the tradition of Japanese Budo - the way of the warrior. However, it is based on the approach that the struggle must be stopped and not intensified. Correct management and control of the situation can safely counter the dangers and actively prevent adverse circumstances During the second weekend in November, fans of Japanese martial arts aikido met in the Klub Junior. On the traditional autumn weekend organized by Aikido in Libuš, we welcomed participants from Switzerland, Germany, Italy, Slovakia and Slovenia. The intensive exercise took place in a friendly atmosphere under the direction of the Swiss teacher Bernhard Boll, who has been dealing with Japanese Aikido art for over 40 years. All participants not only received new knowledge and lots of experience, but above all strong motivation for further training and improvement.