Vercelli April 2019
Seminar with Doshu Yoshigasaki
Magna Charta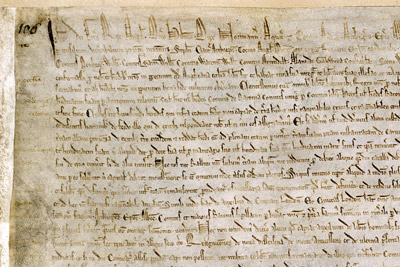 On April 27th and 28th, 2019, a seminar with Yoshigasaki Sensei took place in Vercelli (Piedmont). Yvette, Govert and Bernhard from Aikido Balerna and Maria Grazia from Dojo Sessa decided to participate. After about one and a half hours of driving, the seminar's location was quickly reached. In a large hall in a school complex, a remarkably large mat area was laid out.
To welcome the participants, the mayor Maura Forte also came to the hall. She spanned an arc from the peaceful martial art Aikido to the current exhibition of a copy of the Magna Carta in Vercelli. The connection to England is represented by Cardinal Guala Bicchieri from Vercelli. He was active from 1216 to 1218 during the turbulent times of the "War of the Barons" in England as papal ambassador. The mayor gave the Aikidoka free admission to the exhibition. This was really very well done. (To the mentioned cardinal, I recommend the article in Wikipedia).
9th Dan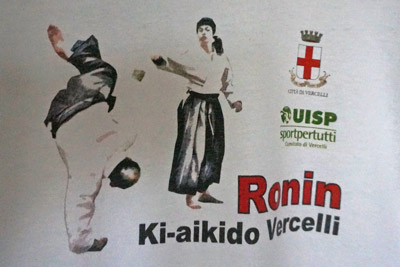 At the beginning of the first lesson, the Doshu awarded high dangrades to three Aikidoka:
Gianni Gioconto (Novara) received the 9th Dan, Maurizio Volpe (Novara) the 8th Dan and Nicola Grande (Turin) the 7th Dan. Together with Mario Peloni (Florence), who received the 9th Dan in 2015, and Bruno Maule (2019), there are now three holders of this prestigious grade in Italy.
Sensei taught in the usual way with a focus on the mathematics of forms. Since an exam for the 3rd Dan was due, mainly the techniques from this program were used for illustrations.
The Dojo Vercelli had beautiful T-shirts made, on which an aikido technique is shown photorealistically. In addition, the coat of arms of the city, the logo of the sports association and the name of the dojo are printed. The T-shirts were given to every participants as a gift.
Vercelli

Culture and gastronomy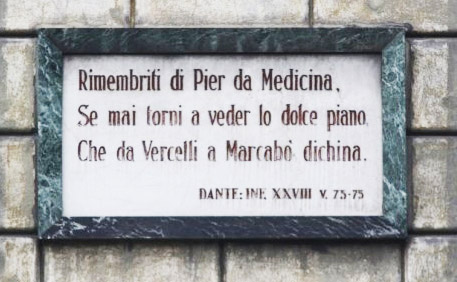 Vercelli is a very interesting city in cultural and gastronomic terms. The last time I visited the city was in 1980, when I returned from an Aikido seminar in Florence. I remember having eaten very good penne in Piazza Cavour. So, this time the lunch on Saturday in the city center was so tasty that the Swiss group actually got lost in the streets of the city of 45,000 inhabitants on the way back to the dojo. Gianni had to be called by phone; he organized a driver to collect us and take us to the dojo. With intensive Aikido training, sightseeing, city tours and eating together, Saturday and Sunday flew by. On Sunday afternoon we drove back to Switzerland via the A26, which is a quite pleasant motorway.
In any case, Vercelli is worth a visit, not only because of Aikido.